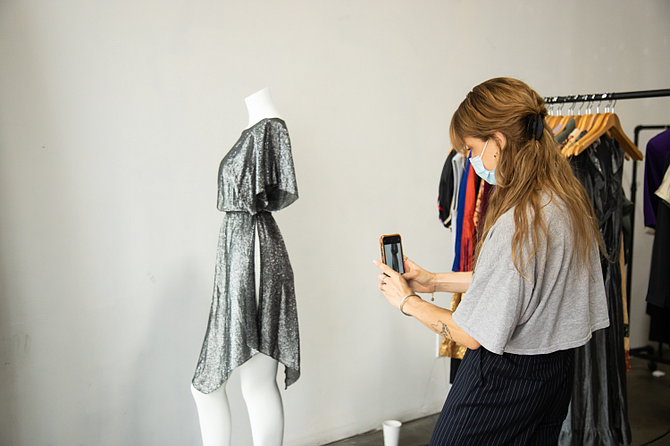 Shilla Kim-Parker said her best product ideas come from "listening intently and intensely" to her customers. The latest addition to Thrilling Inc., an online marketplace for vintage and secondhand apparel and accessories, is no exception.

"Since founding Thrilling and connecting with store owners across the country, I've found that one of the most significant pain points for them is the time it takes to upload their vast, unique inventories online," Kim-Parker said via email. "In order to solve this barrier, I launched Thrilling-on-Demand … which allows store owners to book professional, vetted vintage assistants at their convenience to manage the entire process of uploading the store's inventory."
 
Thrilling recruits its vintage assistants as contractors mainly from fashion and photography schools. They supply their own mannequins, lights and everything else needed to photograph, measure and upload the store's inventory to the Thrilling platform for sale within 24 hours. Store owners can book Thrilling On-Demand as a one-time service for $3 per item or sign up for a monthly membership.
 
The latter is more popular, as most of Thrilling's "500-plus store partners are single-owner operated where the owners are responsible for the majority of the duties it takes to run the entirety of their business, from customer service to logistics to accounting and more," Kim-Parker said.
 
She added that the service has enjoyed "incredible success in its pilot phase" in New York City and that they're "extremely excited to be launching in L.A., where Thrilling was founded, and expanding to more cities across the country soon."
 
Kim-Parker co-founded Thrilling in 2018 with Brad Mallow, who serves as the company's chief technology officer. While other platforms — including Tradesy Inc. in Santa Monica, San Francisco-based RealReal Inc. and Oakland-based ThredUp Inc. — provide space to sell gently used luxury or everyday garments, Thrilling's focus is on "true vintage" to "encourage and enable more sustainable shopping habits."

"With contemporary clothes or fast-fashion items, consumers are often thinking shorter term about wearing an item rather than how long they can extend the lifespan of a piece of clothing," Kim-Parker said. "What a lot of people don't know or tend to think about is that the fashion industry is actually responsible for 10% of the world's carbon emissions, which can partly be attributed to fast and contemporary fashion.
 
"When consumers buy true vintage clothing and accessories, they are helping to cut down on waste and reduce the apparel industry's harm to our environment."

Thrilling employs 40 people; nearly two-thirds are women, and half are people of color. About half came on board in the past year.
 
"Recruiting for diverse talent becomes easier when people can see that you walk the walk," she said. "Candidates are becoming increasingly selective … and they are increasingly compelled by companies that reflect their values."

Rather than charge listing fees, the company collects a 10% commission on each sale. ThreadUp's and RealReal's commission is 20% to 95%  and 55% to 85% of the selling price respectively. Tradesy's take on items that sell for $50 or more is 19.8%.
Over the past year, Thrilling posted a 1,900% increase in sales and a 400% growth in stores selling on the platform as retailers and consumers moved to ecommerce during the pandemic.
 
"Some of the hardest moments came at the start of the pandemic when we went against the counsel of our investors and … made the decision to suspend all commissions on any sale so that 100% of all proceeds went directly to the stores in this time of existential crisis," Kim-Parker said. "That helped us earn a level of trust with our stores, who felt that we were true partners. Not only has our store base more than doubled, less than 1% of our stores have ever left."
For reprint and licensing requests for this article, CLICK HERE.

https://labusinessjournal.com/news/2021/oct/25/online-vintage-clothing-marketplace-adds-it-suppor/