The holidays are right around the corner, and whether you're looking for decorations, game stuff, or something to wear, we got you covered.
It's almost holiday time, and if you have a big family who holds get-togethers and parties, you may already be celebrating. And if you're not into decorating or big holiday parties, it's also just a good excuse to have a winter-themed game session or two. Let's get our D&D dens ready for the holidays together with these festive accessories.
1. D&D Stocking
If it's your holiday, stockings are pretty much necessary Christmas decorations. And this one has some iconic D&D art by Kurt S. Adler on it. With official branding and a big picture of a dragon right on the front, this isn't one of those subtle decorations that will trick people into thinking that you don't play pretend with your free time. But who cares? That's between you and Santa.
---
2. Faux Ugly Sweater
The ugly Christmas sweater is a tradition for lots of people. And recently that's extended to sweatshirts with faux-sweater detailing on them. This particular "sweater" has a merry little D&D design and comes in four colors. It may not be one of those all-year-round shirts, but it's perfect for this time of year. Or just keep wearing it all year if you want. We won't judge you.
---
3. Dice Ornaments
Do you have a tree to decorate? Maybe you just like hanging fun decorations off of stuff. Well, this dice set is perfect for any dice-rolling adventurer. Each die is wearing a little hat to keep them warm. And since they're laser-cut plywood, you can paint them to match your holiday or game aesthetic. Part decoration, part craft, all holiday-time fun. What more could you ask for?
---
4. Nerdy Hanukkah Earings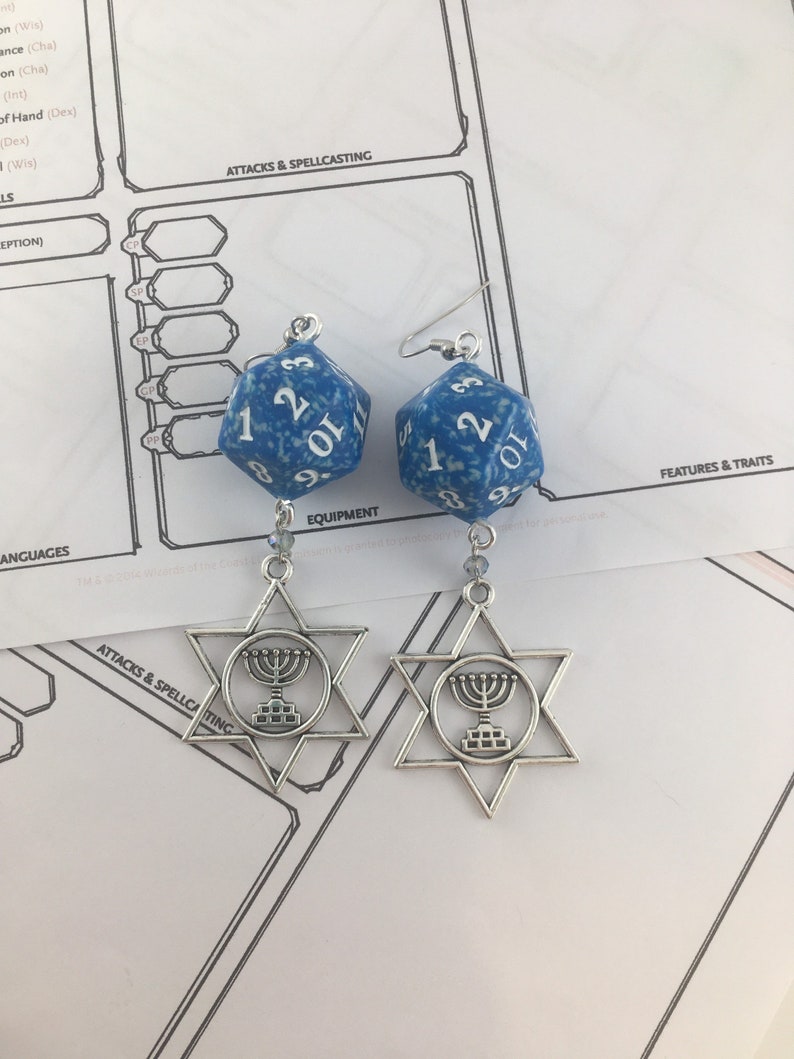 These earrings are one of those silly things that I don't need but want and like a lot. Blue D20s accompany little menorahs for all of your nerdy Hannukah needs. Honestly, there's not a lot to these and they really just speak for themselves. But if you've noticed that it can be hard to find fun Hanukkah stuff, these may be the earrings for you.
---
5. Gingerbread Gang Minis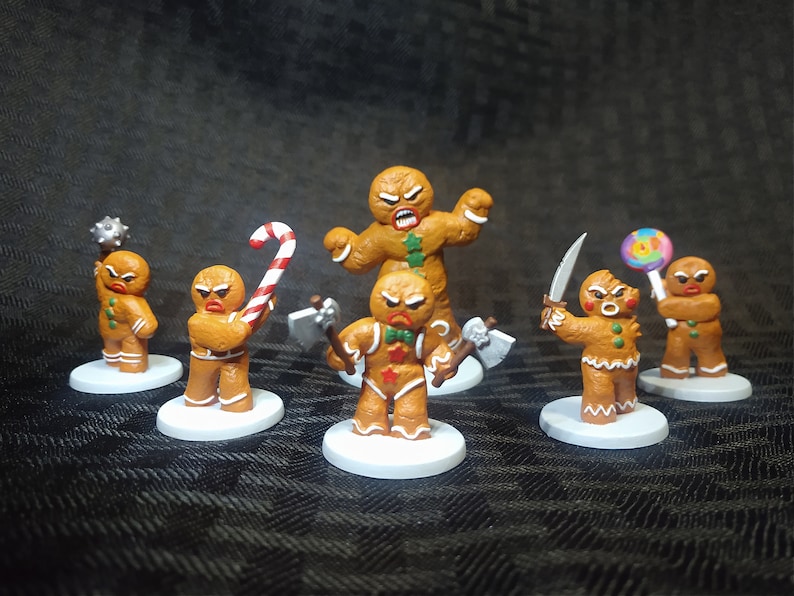 Holidays are always a prime excuse to incorporate some timely themes into my group's game sessions. And with this sweet frosty little gang, that may be easier than you thought. The Gingerbread Gang is here to terrorize your villages and seek revenge for their eaten brethren. And while they look like buisness, they're also real darn cute. Run run as fast as you can!
---
How do you incorporate the holidays into your D&D sessions or D&D into your holidays? Did any of these picks make it onto your wish list? What wintertime monster would you like to go up against? Let us know in the comments!
Happy Adventuring!